ICAK-UK is thrilled to be the hosts of the ICAK's 54
th
Annual Conference, to be held 8-10 June 2018!
The meeting is to be held in the majestic city of Edinburgh, the capital of Scotland. Steeped in history, Edinburgh seamlessly blends old and new, providing the perfect destination to experience the sights, sounds and tastes of a diverse and vibrant city.
Edinburgh has a medieval Old Town and elegant Georgian New Town with gardens and neoclassical buildings. Looming over the city is Edinburgh Castle, home to Scotland's crown jewels and the Stone of Destiny, used in the coronation of Scottish rulers.
The Conference:
The theme of the conference is "To Boldly Go - from Insight to Illumination" and it is our aim to follow the intentions of Dr Goodheart in both respecting the old and embracing the new.
The agenda of speakers will focus on our newer diplomates and teachers, who are bringing to the world of AK exciting and innovative techniques that are borne out of new research in science and medicine – our knowledge of the neurophysiology of the body and the human biome is exploding and we are able to back up our findings with research as never before. Such developments mean that we must move forward with all that is fundamental in the use of AK within the clinical environment.
Let's make research our strength and not our enemy!
The Conference will be a good mix of presentations, workshops and updates on research.
The 2018 meeting will be fondly remembered for many years to come!
Some more about Edinburgh - Points of Interest: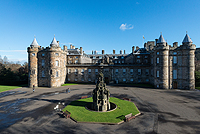 Holyrood Palace - 16th Century Royal Palace and Abbey, Holyrood Palace is the official residence of the British monarch in Scotland. Queen Elizabeth spends one week in residence at Holyrood Palace at the beginning of each summer, where she carries out a range of official engagements and ceremonies.
Holyrood Park - Holyrood Park is a short walk from Edinburgh's Royal Mile in the heart of the city. It is a 640 acre Royal Park adjacent to Holyrood Palace.
The park's highest point is Arthurs Seat, an ancient volcano, which sits 251m above sea level giving excellent views of the city; it is also the site of a large and well preserved fort.
Scotch Whisky Experience - A five star visitor attraction at the top of Edinburgh's Royal Mile, telling the tale of Scotland's national drink with high-tech exhibits and a barrel ride.
Royal Botanic Garden - Over 70 acres of beautifully landscaped grounds with glasshouses and tours, providing a tranquil haven just one mile from the city centre.
<!img src="images/edinburgh.jpg">